SYMMETRY CERTIFICATION
Symmetry is a complete and profitable advanced postural assessment and corrective exercise system to improve your clients' posture, relieve their pain and improve their function. Our certified practitioners use our proprietary AlignSmart technology to measure alignment, create individualized corrective routines, and provide an easy-to-use interface that engages their clients to be proactive daily for a lifetime of optimum performance.

Measure. Educate. Correct. Empower.
We are an approved continuing education provider for the American Council on Exercise, the National Academy of Sports Medicine, the Athletics and Fitness Association of America, the National Certification Commission for Acupuncture and Oriental Medicine, and the National Certification Board for Therapeutic Massage & Bodywork. See specific courses for amount of CEUs.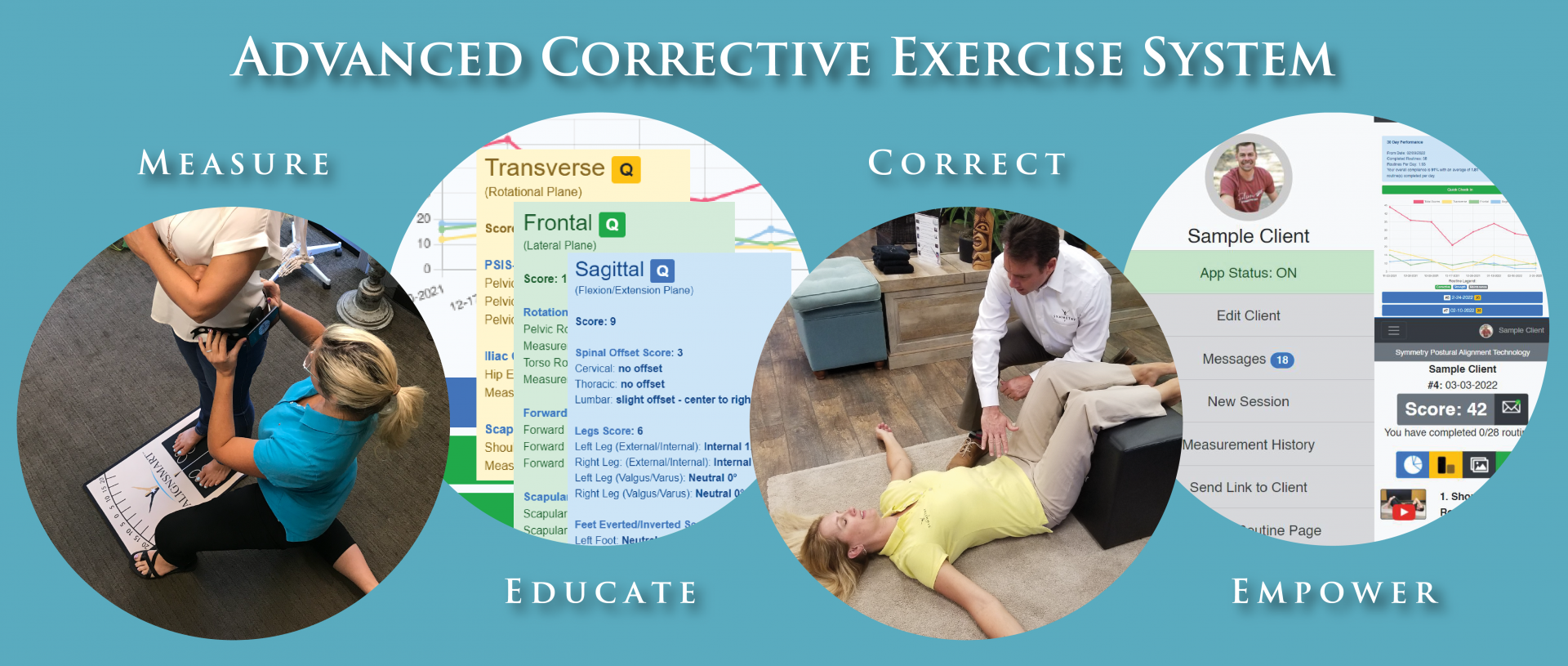 400+
CERTIFIED PRACTITIONERS

TESTIMONIALS
What our learners say about us
Symmetry's AlignSmart™ system is the best investment I have ever made for my practice. I have been using it for over 10 years now, and have seen the evolution of this method. You will not be disappointed.
Gina Albanese, L.Ac., SCAP
Adding the Symmetry AlignSmart™ programming is invaluable and exactly what I needed for my clients and for my business. Without question, this should be a modality in every form of therapy and training that exists.
Karyn Tammaro, Personal Trainer, CSAP
Corrective exercise is vital to have in your practice as a massage therapist. We can work on the patterns, but Symmetry teaches your clients to keep working on themeselves, to keep the healing process always evolving.
Kate Fox, CMT, CLMA, CSAP
Develop Your Professional Skills and Increase Your Revenue
We will help you implement the "working smarter" principal for your business. Change from the "session" mentality, to a "program" mentality, where empowering your clients becomes your #1 focus.
Join the community

Sign up for our newsletter.
Frequently asked questions
What courses will I take?
Symmetry Certification is broken down into 4 main courses, with applied training courses. Symmetry Philosophy is an introduction to the journey of Symmetry and how the system was created. Technician Certification teaches the advanced corrective exercises. Practitioner certification focuses on measuring posture and creating sequenced exercise routines to correct postural misalignments. And Advanced Practitioner Certification is focused on the patent-pending algorithm in client care and complete business support.
What can you offer that I cannot get at other online schools?
Our courses are setup in two levels. The first level includes book learning and is similar to other online programs. The second level is practical, using Zoom and in-person opportunities, and will include lots of interaction with our practitioners and technicians to ensure you are successful with your clients.
How can I choose my courses?
While you can take our courses in any order, the courses are set up to be taken sequentially. We recommend you start with our introductory course,
Symmetry Philosophy
. Most students will incorporate corrective exercise into their practices when they complete the Technician certification course. Most students will start measuring paying Symmetry clients when they complete the Practitioner Certification course.
Can I sign up for more than one course at a time to get a discount?
Created with